Skomer became on island after the last ice age, about 12000 years ago.
Early Iron Age remains have been found extensively on Skomer, with geophysical survey and excavation revealing field systems and settlements. The Deer Park, overlooking Jack Sound from the mainland, is the largest promontory fort in Wales.
The Skomer Island Project, which started in 2011, has returned in 2016 for more archaeological research, including further geophysical survey excavation one a prehistoric field boundary. Previously (see 2012 & 2014 news) they have dated finds to the early and late Iron Age. Archaeologist think that people lived and farmed on the island from four or five thousand years ago, up until the last farmers left in 1950's. With no ploughing since at least Roman times the archaeology is very well preserved.
The name of the island, Skomer, is said to come from Old Norse, like Skokholm nearby.
The rabbits were introduced to the island in the Middle Ages, 13/14th Century, and have been there ever since. Their burrows are used for breeding by the Puffins and Manx Shearwater, who are also good at digging their own.
At the centre of the island is the ruin of The Old Farmhouse, and this dates from around 1840, though the site is thought to date back to about 1700. Some of the farm outbuildings have been refurbished as part of the Skomer Heritage Project to provide accommodation and a visitor centre. Further evidence of the previous farming can be seen in the two 19th Century lime kilns overlooking North Haven.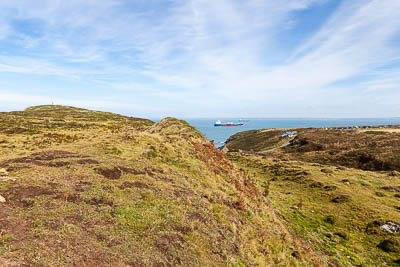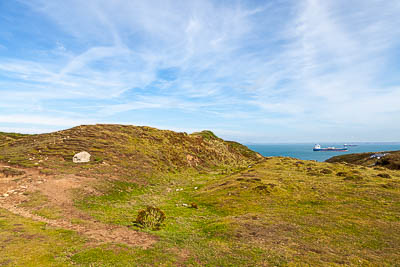 These are the remains of the Iron Age bank and ditch on the Marloes Deer Park overlooking Skomer Island. Lockley Lodge and the sea of St Brides Bay can be seen in the distance. The path from the lodge and car park crosses a stream before ascending the steep banks and crossing the rampart. Martins Haven, a small sheltered bay, lies in the gap toward the sea, and the people living in the hillfort would no doubt have taken small boats from here across to Skomer, and quite probably a lot further!